Regular maintenance of artificial turf is required because small particles such as dust, pollen, plant remains and wear material are washed into the fine gaps in between the granulate by rainwater and result in a hardened surface. The resulting impermeability to water  means that algae and moss grow. This leads to a high risk of slipping, which in turn means a high risk of injury for users.
The TDB150 artificial turf maintenance machine is the "minimum requirement" for regular and rapid maintenance of the artificial turf surface. The granulate filled into the artificial turf is loosened, levelled, evenly restored in the artificial turf surface and the turf is straightened up again. This improves the water permeability and prevents water puddles from forming. For quicker treatment of artificial turf surfaces, two TDB150 can be attached side by side. The working width is then extended to 300 cm. Transport outside the field is done using the attached wheels.
The TDB150 can be attached to various towing vehicles such as a quad, electric vehicle or a small tractor using the 3-point linkage by means of a drawbar.
At a glance

Power class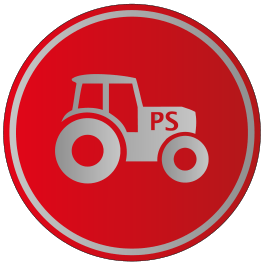 Working width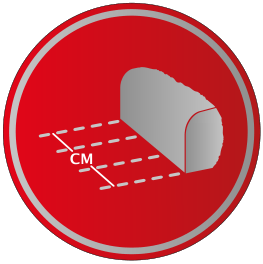 Highlights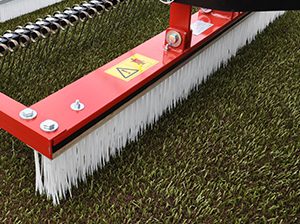 Three broom bars for better levelling
Up to three parallel, continuous broom bars can be used for levelling and thus ensure even distribution of the loosened Granulate.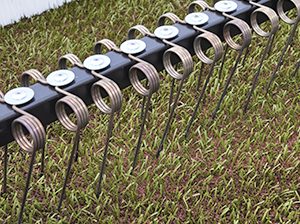 Thorough breaking up of the hardened surface
When rainwater flushes tiny particles into the fine cavities in the granulate, this creates a hardened surface which will be difficult to break up with the broom bar. By means of the spring tine bar, the layer can be loosened and broken up gently without damaging the artificial turf.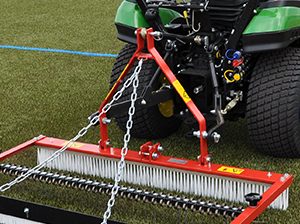 Easier attachment and removal
The TDB150 can easily be attached or removed using CAT. 1 or a drawbar.
Other product features
Powder-coated steel frame
4 wheels for transporting the machine
Robust brooms made from synthetic fibres
High quality spring tines made of spring steel
---
Go to detailed Product brochure
Artificial turf maintenance machine TDB150