The flail mowers in the GS20 range fulfil the requirements of municipalities, service providers and GaLaBau for a clean cutting pattern and quicker mulching of the cut material excellently. They are used in private green areas and parks, paddocks, flower and eco meadows, campsites and verges of hiking trails, dirt tracks and cycle paths. The GS20 is particularly suitable for operation with compact and municipal tractors, other compact towing vehicles and large area mowers.
The machine meets the stone impact/thrown object test standards in accordance with DIN EN 13524 and ISO 17101-2.
Depending on the working width, an area treatment efficiency of up to 15,000 sqm/h can be reached.
At a glance

Power class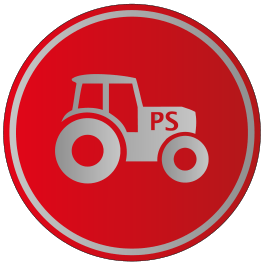 Highlights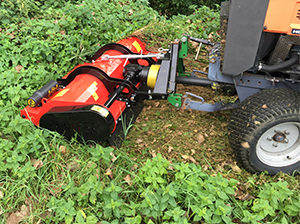 Ideal für Fahrzeuge mit tief sitzender Zapfwelle
Aufgrund der niedrigen Bauhöhe kann der GS20 auch bei Trägerfahrzeugen eingesetzt werden,
die mit einer extrem tief sitzenden Frontzapfwelle ausgestattet sind. Selbst bei einem
Abstand von weniger als 30 cm vom Boden, kann der Schlegelmäher einwandfrei betrieben werden.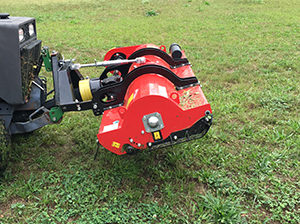 Runde Gehäuseform und hohe Rotorendrehzahl für perfekten Materialfluss
Durch das Zusammenspiel von Gehäusegeometrie und dem bis zu 2.700 U/Min. schnellen Rotor
wird das zerkleinerte Material ohne Verwirbelungen und Klumpenbildung mit hoher
Wurfgeschwindigkeit über die gesamte Arbeitsbreite hinter der Heckwalze abgelegt – selbst
bei feuchtem Gras. Der Verrottungsprozess wird dadurch gefördert und die Fäulnisbildung verhindert.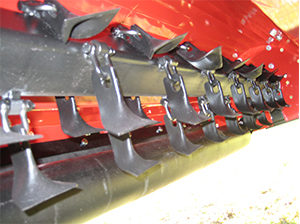 Innovativer Vierkantrotor sorgt für exzellentes Mähergebnis
Revolutionär im Bereich der Mulchtechnik ist der Spezialrotor aus Vierkantprofil.
Der elektronisch fein ausgewuchtete Rotor sorgt mit seinen vibrationsfreien Lauf
für ein herausragendes Schnittbild. Die geschlossene Rotorwelle ist mit 2-fach
pendelnd aufgehängten Messer bestückt und wird über drei formgezahnte Keilriemen
angetrieben.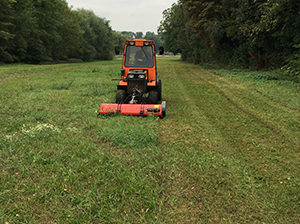 Steigerung der Arbeitseffizienz durch hohe Flächenleistung
Um eine hohe Flächenleistung zu erzielen, ist das perfekte Zusammenspiel der
Komponenten notwendig. Die Positionierung der Feinschnitt-Hammerschlegel auf
dem Rotor des GS20 wurde anhand von präzisen Berechnungen und ausgiebigen
Testfahrten bestimmt, sodass die Werkzeuge perfekt mit der hohen Rotordrehzahl
harmonisieren. Das Resultat ist eine spürbare Steigerung der Arbeitseffizienz.
Weitere Produkteigenschaften
Antrieb durch formgezahnte Keilriemen
Höhenverstellbare, selbstreinigende Heckwalze
Heckwalze bodenschonend abgerundet
Beidseitig breite Gleitkufen
Antriebsdrehzahl 540/1000/1600/2000/2500 U/min.
Griff- und Steinschlagschutz vorne und hinten
Kunststofflamellen vorne sorgen für geringen Lärmpegel
---
Zur ausführlichen Produktbroschüre