The GS41-S series side mulchers or side flail mowers have been developed to cleanly mulch green areas, hedges, strawy and knotty material alongside the tractor at an angle of -65° downwards and up to 90° upwards. Preferred applications of the GS41-S are the mowing of ditches and embankments, verges along hiking, field and cycle paths, roadsides and green areas. Municipal and compact tractors with a power of 24 to 75 hp are particularly suitable as towing vehicles.
Equipped with the GARDEN fine-cut cup blades for lawns or 700 g hammer flails for tougher mulching material, the rotor of the GS41-S creates a clean cutting pattern with the straight cutting edges of the tools. The individual arrangement of the blades enables a very high rotor speed, which, in combination with the design of the tools, guaranties a strong suction effect in the mulch housing. As a result, the material is shredded very finely and the surface of the cuttings is additionally broken, which in turn significantly promotes the mulching process.
At a glance

Power class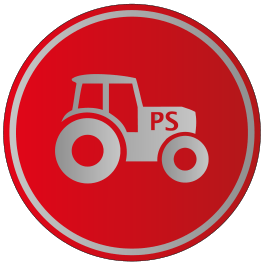 Working width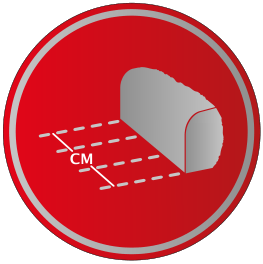 Highlights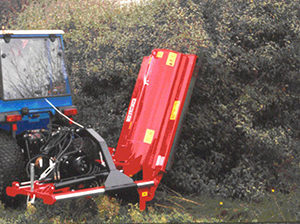 Hydraulic tilt adjustment and side shift ensure maximum flexibility
Thanks to the hydraulic tilt adjustment of the mulcher from -65° to +90° and hydraulic side shift by 42 cm, you benefit from maximum flexibility when working on slopes, roadsides, verges, road and field edges etc.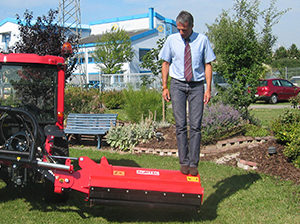 Stable driving due to ideal weight distribution
Thanks to the specially designed suspension of the mower head on the frame of the side mulcher, part of the weight of the mower head is transferred to the left-hand lower link and thus the left-hand side of the tractor – the dreaded tipping of the towing vehicle becomes almost impossible and you get even pressure on the soil.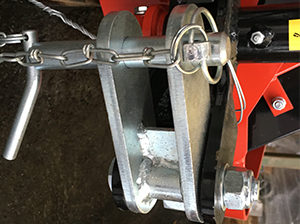 Automatic latch safety locking protects against damage
A latch which pulls the mulching head backwards and opens upwards serves as collision protection. The latch is engaged again by simply raising the tractor hydraulics. The gearbox is also protected against collision damage through the special attachment of the right-hand parking support.
Optionally available with bearings which can be lubricated!
Other product features
Optionally with fine-cut cup blades for lawns or 700 g hammer flails for knotty / bushy material with a diameter of <4 cm.
Suspended left-hand guide cylinder to transfer the mulching head weight over the front left wheel
Automatically engaging transport securing device with arrester hook, can be operated from the driver's seat
Operation of all hydraulic functions through the tractor hydraulics (2 double-acting control valves required)
Rotor shaft made from high-quality seamless drawn precision steel tubing
Extremely smooth running and vibration-free thanks to special electronic balancing of the rotor at full operating speed
Robust steel housing with large housing overhangs for more safety
Driven by three V-belts
Belt tensioner accessible from the outside
Specially protected rotor bearings which can be lubricated from the outside
Self-cleaning rear roller and reinforced mountings with closed maintenance-free or greasable bearings
Rear roller slanted to protect the soil
Rear rubber skirt freely suspended on hinges and flexible front plastic lamella as stone guards
External skids
---
Go to detailed Product brochure