Our GS70 series flail mulchers have been specially developed for operation on tractors and towing vehicles as well as for municipal tractors. In particular, it can deploy its full capabilities on bushy and knotty material up to a diameter of 8 cm.
The preferred areas of application for the GS70 are municipal parks, meadow orchards, special crops, tree nurseries, paddocks, verges, agriculture and gardening and landscaping.
Highlights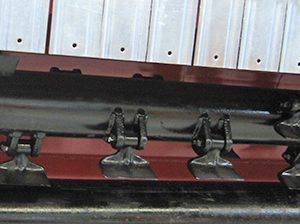 Vibration-free operation due to quality rotor
The electronically fine-balanced rotor ensures vibration-free running and, in combination with the fine-cut cup blade GARDEN (G), Y-blade, 700 gram AT hammer flail (M) or Y-hammer flail, provides an outstanding cutting pattern.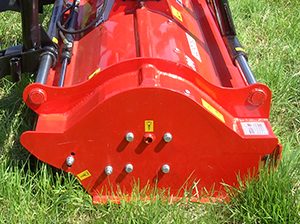 Perfect material flow without turbulence and lumps
The round housing shape and high rotor speed enable the shredded material to be deposited loosely behind the rear roller at high throwing speed across the entire working width – even when the grass is wet. This prevents rotting and encourages the mulching process. It thus has a positive effect on the water balance of the soil.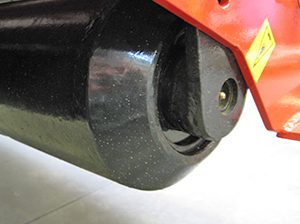 Self-cleaning professional rear roller prevents material build-up and sticking
The self-cleaning rear roller with high-tech slide bearings is designed to prevent material build-up and sticking to the roller. It is also height adjustable and rounded to protect the soil. Equipped with maintenance-free bearings, the GA40 is also suitable for continuous operation.
Optionally available with bearings which can be lubricated!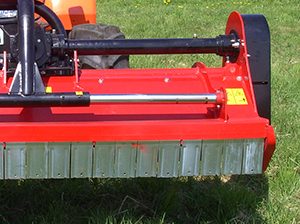 Easy avoidance of obstacles
With the hydraulic side shift fitted as a standard, it is easy to drive around obstacles such as walls, fences, etc. A hard chrome-plated solid material shaft ensures particular durability.
Other product features
Drive with through shaft for combined rear/front attachment
Robust double-walled steel housing in sandwich construction with large overhangs at the front and rear as stone guard
Front protection made from movable metal swinging lamella
Rear protection made of strong hard rubber
Freewheel in the gearbox
Heavy self-sharpening precision cutting AT hammer flail weighing 1,800 g for optimal shredding, even of bushy or knotty material
Two built-in fine mulching profiles
With lateral skids as a standard
Height-adjustable supporting roller
Parking support
---
Go to detailed Product brochure