Regular cutting is necessary for a visually appealing lawn, but this is far from all that's needed. Over time, a spongy layer of dead plant parts forms which not only detracts from the appearance, but also threatens the long-term health of the lawn. This layer inhibits root growth and reduces water permeability as well as the supply of oxygen to the root system, which in turn leads to fungal infections. The shear strength also suffers. In order to achieve an impressive lawn appearance in the long term, we have developed the perfect scarifier for tractors, towing vehicles and municipal tractors with 15-55 hp in the ST40. Equipped with 2 freely suspended blades, the ST40 cleanly removes the spongy layer and separates the roots growing in the width. New grass plants thus grow and the lawn surface becomes noticeably fuller. Areas of application are predominantly golf courses, football fields and sports fields, parks, campsites, swimming pools, lawns, municipal parks and gardening and landscaping.
At a glance
Power class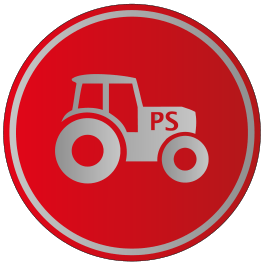 Working width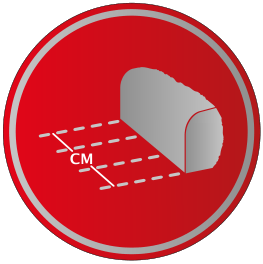 Highlights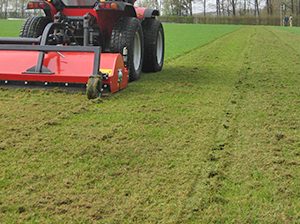 Substantial area treatment efficiency thanks to high blade density
Owing to the low distance of just 2 cm between the blades on the enclosed rotor shaft, more material than usual can be removed with the ST40 in a single operation. The usual criss-cross paths are no longer necessary and the working efficiency is increased. An advantage for users and customers.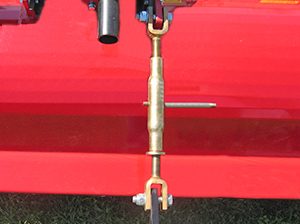 Quick and individual blade adjustment
Particularly on terrain which changes frequently, depth adjustment of the blades is generally laborious and time-intensive because different tools are needed for mounting shorter or longer blades. On the ST40, the depth can be adjusted with millimetre accuracy without any tools thanks to an adjustment spindle. You can thus achieve the perfect scarifier depth with maximum time savings.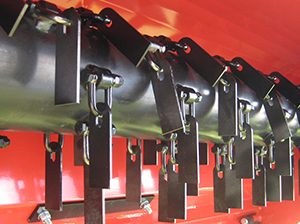 Two freely suspended blades for optimal protection and durability
Rigid tools on the rotor risk being damaged by obstacles on the lawn surface since they hit the object at up to 2,600 rpm and are unable to yield. With the break-resistant scarifier blades made from spring steel and the blade mounts made from stainless steel shackles on the ST40, small stones, branches, glass surfaces or plastic packaging can be driven over without a problem with no risk of harm to people or the machine.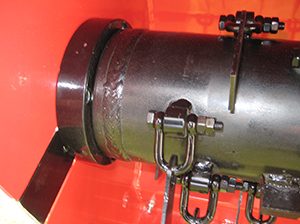 Vibration-free operation due to quality rotor
At full speed, the rotor is electronically balanced and, for this reason, is extremely smooth running and vibration-free.
Other product features
Perfect material flow without turbulence and lumps due to round housing design
Specially protected rotor bearings, can be lubricated from the outside
Rotor speed 2,600 rpm
Rotor driven by three V-belts
Robust, closed steel housing according to German Accident Prevention Regulations (UVV) and CE
Cast gearbox housing
Large housing overhangs at the front and rear prevent stones and other objects from escaping
Large rubber skirts freely suspended on hinges as an additional stone and spray guard
2 large swivelling front wheels with depth adjustment
2 additional wheels instead of a rear roller ensure that the extracted material is not worked directly back into the ground
Input speed 540, 1,000 or 2,000 rpm
---